If you've ever visited a torrenting website, you've probably noticed many recommendations to use a VPN for torrenting. Regardless of what you're torrenting, this is undoubtedly sound advice.
However, why is a VPN necessary for P2P file sharing, and how does it genuinely make you safer online? Here, we'll go over the specifics of how torrenting operates, the dangers you run, and what the finest VPNs can do for you.
Naturally, we do not support using torrents to download unauthorised or unlawful content, and our advice is only meant to help individuals who are really utilising torrents to get authorised content.
Why you need VPN for torrenting?
In order to comprehend why you need a VPN for torrenting when you're doing it, you must first comprehend how torrenting functions in its entirety, especially if you've never done it before.
A torrent client is required before you can begin downloading. You can connect to the network using these and obtain the files you require. Every torrent contains a torrent file that tells the client what to download from the network, but "magnet links," which don't require you to download anything before starting the torrent download, are rapidly taking their place.
Peer-to-peer (P2P) sharing is a decentralized technique of file sharing in which a file is downloaded from a number of persons across the world via the BitTorrent network rather than from a single source. It may be downloaded as long as a single person is sharing the file at the same time, and the more individuals seeding typically equals a quicker download.
This is beneficial because it relieves burden on a single server – if a certain file is particularly popular, downloads from a single server may become very sluggish, and if that server goes down, the file will be inaccessible. Larger files are also easier to download and take less time to complete when using P2P rather than single-source downloading.
After downloading a file, you have the option of remaining connected to the network and becoming a seeder yourself. This indicates that you are a member of the network from which others can download the material.
Which VPN is best for torrenting?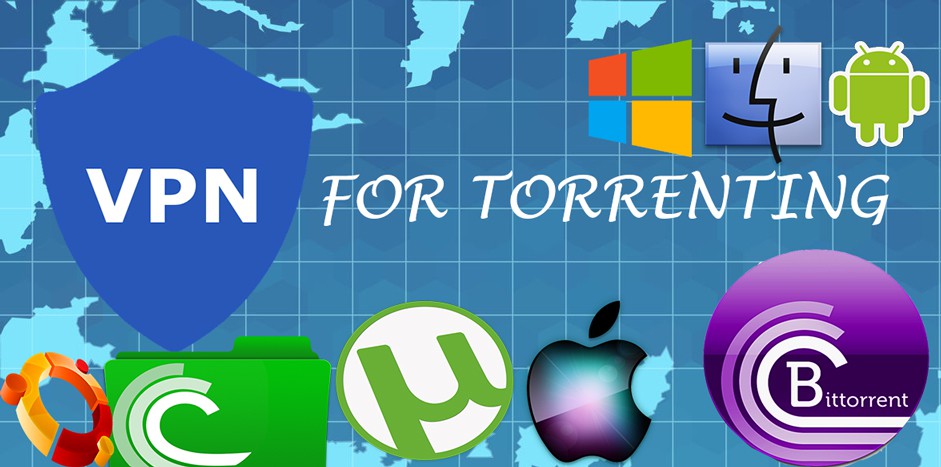 iTopVPN for torrenting

With iTop VPN, you may access limitless games, streaming services, social networks, and websites while maintaining your privacy. It allows for torrenting. Your torrents will be encrypted using military-grade encryption. To increase the speed of torrenting, it provides over 1800 worldwide network servers, and you may locate the nearest one.
Pros
Free plan offered to satisfy your fundamental torrenting requirements
Compatible with Windows, iOS, and Android
Logging prohibition
Accessible kill switch
Support for split tunnelling
Integrated ad blocker
Maximum connections to 5 devices
Cons
So many servers to choose from.
What is iTop VPN?
iTop VPN is a free VPN service with a reasonably priced subscription plan and one or two unique privacy features. The free plan provides 700MB of data per day (21GB per month) and a selection of 16 destinations (including the US and UK), greatly outperforming the majority of the competition. A membership grants you access to 100+ locations as well as 1,800+ streaming and gaming-optimized servers. (P2P is also available, but only on a few specialised servers.)
Is iTop VPN a good VPN?
iTop VPN is a secure VPN application. It secures your data even if it does not use the most modern encryption algorithms. It includes a strong no-logging policy as well as a kill switch in case your internet connection goes down unexpectedly.
In a nutshell, here is what iTop VPN accomplishes for your security:
TCP, UDP, and HTTP encryption protocols with 256-bit encryption
Kill switch for increased security
DNS security
Browser and device security
Protocols
iTop VPN employs 256-bit encryption, which is common among VPNs. However, as we discovered throughout our iTop VPN, it supports three encryption protocols. There is currently no mention of IKEv2 or any of the advanced protocols.
TCP encryption: a multilayer encryption mechanism extensively used in the industry, albeit iTop's version is not linked to the OpenVPN standard that many other VPNs employ.
UDP encryption: a technology that works in concert with TCP to enable faster network speeds. Again, iTop's version is not related with OpenVPN.
HTTP protocol: HTTP is not an encryption protocol per se, but rather a data transport method.
Logging and Privacy
VPNs are used to improve our online security and privacy. You might feel more secure online if you can change your IP address and encrypt your connection. All of this may be undone if your VPN tracks your traffic. Fortunately, iTop VPN offers a no-logs policy. This implies that when you use the VPN service, your data is secure. "iTop VPN for Windows will rigorously adhere to the No-Log Policy, therefore under no circumstances will this VPN track, nor record any information of your profile," they say.
Kill Switch
Another noteworthy feature worth mentioning about iTop VPN is its kill switch. When your VPN connection is lost, the VPN service will automatically "cancel" your computer's internet access. This manner, you'll be safe anytime your network is threatened. Your ISP or any eavesdroppers will never know you used a VPN. However, when you install iTop, the kill switch will not be triggered automatically. To enjoy the enhanced security, go to "Privacy & Security" and turn on "Kill Switch."
Unlimited Bandwidth
As a premium account subscriber, you will have no data consumption restrictions when using this service. However, if you use the free iTop VPN download for PC, you will be limited to 700MB of data each day. When you are offline, the Windows client shows a metre so you may keep track of your remaining daily bandwidth allocation.
Unlimited Speed
Premium customers can enjoy connection speeds that are up to ten times faster than free account holders. iTop VPN, like ZenMate and Hideman VPN, throttles non-paying users' bandwidth to minimise network congestion.
Five Concurrent Connections
An iTop VPN premium membership permits you to five simultaneous logins.
There is no way to expand the usability of this VPN's VIP (premium) licence due to its compatibility limits. You could have protected more devices if this VPN supported even the most popular routers. Worse, this seller has not adopted KeepSolid's practise of selling additional slots à la carte. For the time being, you must purchase another membership to circumvent the five-device limit.
Smart Location
It rapidly connects you to the quickest and most stable server and is available in the iTop VPN Windows and Android applications. This function is only useful if the virtual IP (internet protocol) address chosen by iTop to hide your location is irrelevant. iTop VPN will almost certainly redirect your traffic data to one closest to you for lowest speed loss.
Speed Bar
Each server choice has this symbol, which depicts the server's performance at the moment of connection. It's color-coded, so you should be able to discern the difference between fast and slow servers at a look.
Split Tunneling
This iTop VPN Android function allows you to choose which mobile applications to protect and which to ignore. Given the risks of leaving your traffic data exposed, always use split tunnelling while connected to a secure network. Otherwise, create no exceptions and allow iTop VPN to encrypt 100% of the traffic on your device. Technically, this feature is included with the ad-supported Android version.
However, the iTop VPN trial with split tunnelling is only available for 24 hours.
Is iTop VPN Good for Torrenting?
One of the top VPNs for torrenting is iTop VPN. Of all the service providers on our list, it offers some of the greatest connection speeds and supports P2P on its dedicated servers.
Security measures: This VPN operator strictly enforces a no-logs policy, allowing you to torrent safely and anonymously. The servers for NordVPN exclusively use RAM and lack mechanical hard drives. Additionally, PwC conducted two audits of their privacy policy (one of the largest accounting agencies).
Question/Answer
What is the best proxy or VPN to not only unblock but download torrents?
NordVPN is a great VPN for torrenting. It supports P2P on its dedicated servers and has some of the fastest connection speeds of any service on our list. This VPN service has a rigorous no-logs policy, so you can torrent secretly and safely.
Which is the best free VPN for torrenting?
The table below compares the 10 best torrenting VPNs based on their average bitrate, torrenting policy, logging policy, and other P2P-specific features:
| | | | | | | | |
| --- | --- | --- | --- | --- | --- | --- | --- |
| VPN Service | Average Bitrate | # P2P servers | Torrenting Policy | Logging Policy | Kill Switch | Port Forwarding | Jurisdiction |
| Private Internet Access | 9.6MiB/s | 17,087 | Unrestricted | No Logs | Yes | Yes | US |
| ExpressVPN | 9.4MiB/s | >3,000 | Unrestricted | Anonymous Data | Yes | No | British Virgin Islands |
| Astrill | 10.0MiB/s | >110 | Unrestricted | Some User Logs | Yes | Yes | Seychelles |
| AirVPN | 9.7MiB/s | >200 | Unrestricted | No Logs | Yes | Yes | Italy |
| TorGuard | 9.3MiB/s | >3,000 | Unrestricted | No Logs | Yes | Yes | US |
| Windscribe Free | 6.3MiB/s | 23 | Unrestricted | Anonymous Data | Yes | No | Canada |
| PrivadoVPN Free | 5.7MiB/s | 12 | Unrestricted | Anonymous Data | Yes | No | Switzerland |
| Hide.me Free | 9.6MiB/s | 3 | Permitted | Anonymous Data | Yes | No | Malaysia |
| Avira Phantom VPN Free | | | | | | | |
Can using a VPN increase your torrenting speed?
Using VPN even it has P2P support, would not improve your torrenting speed. As your traffic would be routed through a server in order to encrypt the data flow it may actually fall a bit instead.
Can Comcast still track my torrent downloading even if I use a VPN?
Despite the fact that Comcast cannot see the content of your traffic or where it is going, it can monitor how much data flows through its network when you use a VPN. If you're encountering problems, your only option is to change ISPs.
Does a VPN stop your ISP from seeing that you're torrenting?
The quick answer is that a VPN can protect your internet activity from being tracked by your ISP. It should also make it far more difficult for someone on the outside to recognise specific traffic as yours. That's a good thing, not only because it protects your privacy if you pirate illegally, but also because it protects your privacy in general.
How dangerous is torrenting without a VPN?
Torrenting without a VPN exposes your online activities, including the websites you visit and the information you view, to your internet service provider (ISP). ISPs are permitted to disclose this information with third parties, including intellectual property owners.
p2p vpn meaning
A peer-to-peer VPN is a virtual private network that works with a peer-to-peer network. Every member of a peer-to-peer network is a possible point of connection, allowing users to transmit and receive data throughout the network via various nodes rather than a single site.
Other VPN for torrenting
NordVPN – all-around best torrenting VPN
NordVPN is a great VPN for torrenting. It supports P2P on its dedicated servers and has some of the fastest connection speeds of any service on our list.
Pros
SOCKS5 proxy
Specialized P2P servers
No DNS leaks
Split tunneling for apps/webpages
Audited no-logs policy
Cons
Discounts are only for longer subscriptions
Surfshark – one of the cheapest VPNs that allow torrenting
Pros
Low price
Dedicated P2P servers
30-day money-back guarantee
Split tunneling
Customisable encryption methods
Cons
Atlas VPN – cheap torrent friendly VPN
Pros
Free version supports torrenting
Affordable price
Malicious page blocker
Unlimited simultaneous connections
Cons
Based in a Five-Eyes country
Not many servers
5. PrivateVPN – fast VPN to use for torrenting
Pros
Supports torrenting
Port forwarding
HTTP and SOCKS5 proxies
Customizable encryption
Cons
Limited tunneling protocol selection
Modest server fleet
IPVanish – solid VPN for fast torrenting
Pros
Good P2P speeds
Customizable kill switch
Unlimited simultaneous connections
Free SOCKS5 proxy
Split-tunneling on Android
Cons
Based in the US, which isn't privacy-friendly
No Linux app