Blogging is fun when you use right tools to boost your productivity. Suppose you have just completed a blog post but have confusion whether you made any typo or grammatical error or you need to check right keywords for your article so that you can optimize your blog-post for SEO purpose. Whatever your intentions are, Here we present to you 7 awesome blogging tools that you should start using right now to boost your productivity.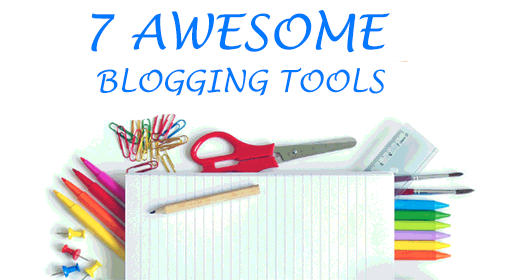 Grammarly:
Grammarly is a free Plagiarism checking tool which can also be used as a grammatical error finder and proofreader. Grammarly scans your text for 250+ Grammar rules and auto-correct them. Grammarly can do the following:
Proofread editorial copy, blog posts, and stories
Grammar check medical reports, product descriptions and white papers
Spell check, improve text and writing skills
Edit resumes and cover letters
Proofread essays and academic papers
You can either Copy your article on the Grammarly Site or you can upload your documents. Let this awesome artificially intelligent tool find out the grammar errors and correct it for you. This is a must have tool for every bloggers. You really need this tool if you want to rank your site better on Search Engine as Grammar errors can distract your visitors from your article and push them away.
WordPress Distraction Free writing:
Most of the bloggers don't know that WordPress has Distraction Free writing mode. Enabling this will fade away all distractions like WordPress Settings and options on both side of your writing box and will help you concentrating on Expressing your words loudly. Whenever you want to enable this mode , just click the 4 arrow box shown below screenshot:
BuzzSumo:
Use BuzzSumo to find out the most shared contents on any topic. It can be very useful to find out what works best on your niche and flourish that idea by tweaking it ideally to dominate your competitors. Just enter a topic or keywords on the Search Box and hit enter. You will get the best contents and can find your next blogging idea.
Serpstate:
Find long tail keywords on SerpState. Just enter your initial keywords and serpstate will find some long keywords which you can use to optimize your article to stand out on search engine ranking and drive traffics from Google what your competitors are ignoring. Sometimes a long tail keyword implemented correctly can help you monetize your article quite easily. For example : Your competitors are targeting keywords like "Best Domain Auction site" whereas you may target "Best Domain Auction site for December 2014" or "Best Domain Auction site for March 2022" etc. This is just an example. In my honest opinion, I have found serpstate very useful for finding right keywords for my next post keyword target and optimization.
You may find Keywordtool useful because it works very similar to SerpState. KeywordTool has additional features like you can search YouTube video keywords.
QuickSprout:
Quick Sprout  is another great blogging tool. You can analyze your site's SEO score, Speed Score and Find out if your site is responsive to Mobiles and Tablets.  You can also check how your site is performing on Social Media by checking your article sharing counter. You can also add upto 3 competitor websites to check what you are missing and what you can do to improve your blog.
Google Trends:
Running out of blogging topic? If your blog is based on a particular region then you can find out what is trending on the region by using Google Trends. This gives accurate results based on search statistics. Hey, why not check out latest trend on your niche and write a cool, sweet article and drive huge traffic from Search Engine? 🙂 You can also write your niche or keywords on the search bar and hit enter . This will show you trending keywords or search results in real time. You can choose category, region, time etc. your own convenience.
ClickToTweet:
ClickToTweet Wordpress Plugin makes it simple to highlight a snippet of your blog post and share it to Twitter with just one click. For non-wordpress users consider this tool
Final Words:
Well, these were some of the best blogging tools I use everyday. If you have any new tools in particular as your favorite please share it with us . We like to get your feedback on comment section 🙂