10 Filestream Basic Promo Giveaway
10 Filestream Premium Account Giveaway

How to Participate on this Filestream Premium Coupons Giveaway/competition?
You just need to use the above widget. You have to follow our twitter page, Like our facebook page, create an account with filestream, Share this giveaway with your facebook and twitter friend. Among all participants only 10 will be select as winner at the end of the competition randomly by Gleam. The more entries/points you get , the more chances of winning this competition. So share this giveaway with as much friends as you want and Best Of luck!
Please read below to know how to download torrents with Filestream free account and IDM download manager
Today I am going to introduce you Filestream – a unique service combining secure cloud service which provides an encrypted file storage and handy Internet tools for downloading files from the most popular file sharing services and BitTorrent network.
Filestream is not only a secure cloud storage service but also a great leeching service from BitTorrent network and Sharing sites like NetLoad,TurboBit,Depositfiles,Letitbit,4Shared etc. The thing I like most about Filestream is that they support SSL secure online download.
Filestream Service Review:
Download From Torrent Network
Speed:
When it comes about Speed Filestream provides best download speed than any other free torrent leeching sites.
Choose a Filestream Data Plan Free or Gold:
As a free user you will get:
– 40 Gb of personal storage
– 3 days of life for downloaded files (from Internet)
– 1 Gb limit for a single torrent downloaded
– 1 Simultaneously fetched Torrents
– UPTO 5GB from file sharing sites
If you buy their Premium Package Gold for one month you will get:
20 days Storage period of Transit files (fetched from the Internet)
100GB Fetching from Filesharing services (per month)
NO Single Torrent size limit . Download unlimited size torrent files 🙂 Cool , right?
Downloading streams per IP 30 (This will tweak more speed if you use download managers like IDM
How To download More than 1GB torrent file with Filestream free account
Want to download more than 1GB torrent files but free account is limited? Filestream Free Account can be used to download big size torrents with a simple trick. Now you can select the files you want to download from a big size torrent by just marking importing files to make the total file size less than 1GB. You can repeat this job until all files are downloaded. But premium users will not face this difficulties as they can download Big Size file with a single click. Check below screenshot for more details: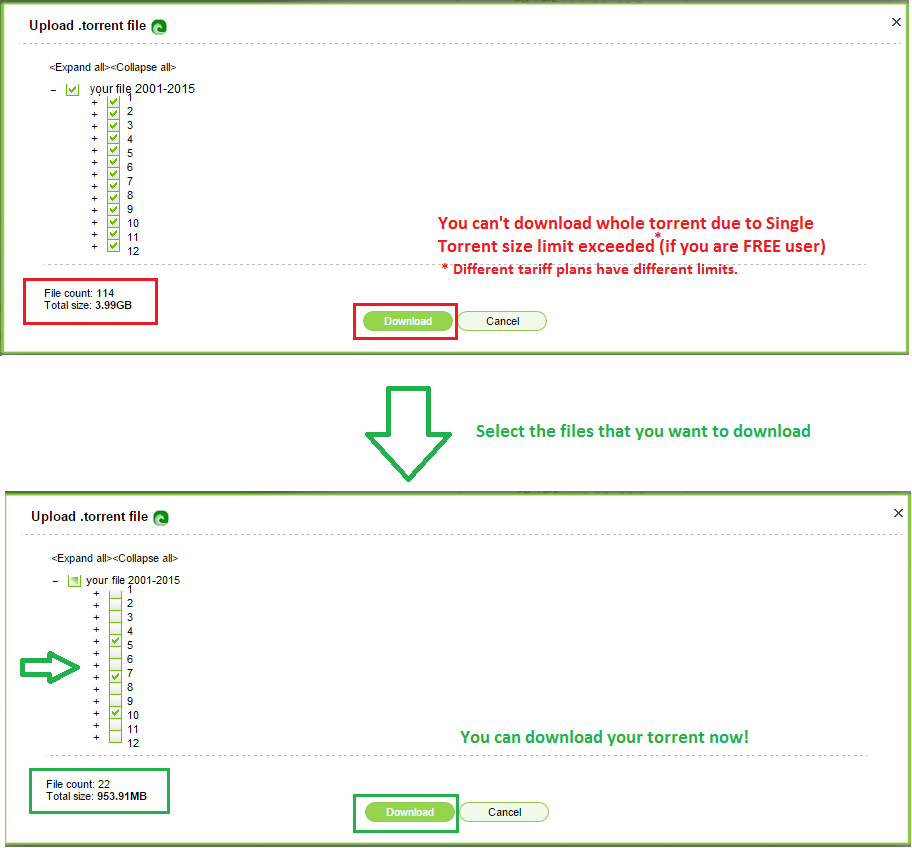 My Personal experience with Filestream:
Speed:
When it comes about Speed Filestream provides best download speed than any other free torrent leeching sites.I used both free and Gold service from them and I must say they provide super fast speed for both Gold and Free users.
Leeching time:
This is my second factor I compared Filestream Pro with Bytebx Premium. If you are a free user then after downloading 2 or 3 files in filestream, you will get less priority in the queue of leeching that means the less you download the less time required to leech a torrent.Their Premium service will give you top priority on the queue and high speed. Filestream can grab files from torrent network and upload that to their server very fast then ByteBX.
As cloud storage:
Both free and premium users can upload files from their computer securely to filestream. Free users are limited to 40GB storage. You can upload your files from your Computer and access them from Both PC and Android device from their android app 🙂
How to download torrent files with Internet Download Manager (IDM)
First Go to Filestream.me
and Click on the signup button

Give your Email and password and verify your email. After that click on the login tab.

Now you will be in your personal Filestream Cabinet. Now click on Download Torrent button.

A pop-up window will just appear. Now you can paste the Magnet Link of your torrent file or you can upload .torrent files from your computer.
Wait sometimes while filestream cache your files. After caching and uploading to their server a download button will appear. Click on it.

Now click on the first Icon from the pop up window:

Or you could copy the link from that pop up window and paste it on Internet download manager for high speed torrent download.
I hope you have enjoyed the post. Subscribe and share please!